bone conduction headphones first crossed my way several years ago, when i did the bridge climb in sydney, australia. somehow, i've always been a fan of physical phenomena like reflections and resonance (see my tunebug vibe review, for instance), so i was looking forward to the time when bone conduction headphones would be generally available. it seems this day has come. :)
earlier this year, a company named AfterShokz presented their newest generation of bone conduction headphones which is very compact, lightweight, and promises good audio quality at the same time.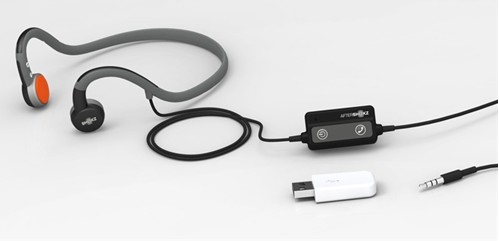 sold!
with this short review, i'd like to share my experiences after (a bit less than) two months of almost daily use.
the headphones are built according to military grade standards, are sweat/water resistant and consist of three parts: the "wraparound headband" that goes around the back of your head/neck, a small control unit (on/off switch, holding clip, internal battery, and, depending on your model, also a microphone and button to answer calls) and a 1.3 m audio cable with 3.5 mm headphone jack. all together weighs less than 50 g.
also included in the package is a usb charger (takes about 3 hours for a full charge) and a black water-repellant storage bag.
the 1-size-fits-most-necks shape presses the active headphone pieces to the temporal bone, just in front of your ears, and really does fit comfortably for me and everybody i've showed them to.

pros:
the obvious advantage of these headphones is that your ears stay free, meaning that you'll still be able to hear traffic from behind, people talking to you etc. in some reviews, people actually complain complain about that and suggest earplugs, but it's quite obvious that they don't get the point.
they're also more hygienic to share with others, for obvious reasons.
official tech specs say that the battery lasts "up to 15 hours at low volume". i use them for about one hour each day at medium volume (which still allows me to hear cars coming up behind me when running or biking), and the headphones go on for a bit more than three weeks.
considering that they're bone conduction headphones (as opposed to standard headphones), the audio quality is awesome. the basses (which are mainly conducted through the bones rather than the eardrum, anyways) as well as the higher frequencies are represented well in the audio experience. i can imagine that true audio purists won't be entirely convinced, but for everyday music listening, they're absolutely great.
cons:
keep in mind that the headphones go around the top of your ears. they may conflict with your glasses' earpieces.
i use them in concunction with sunglasses, and it's enough to put on the headphones first. it still feels comfortable.
conclusion:
the aftershockz bone conduction headphones are well worth their money. i simply wouldn't want to miss them.