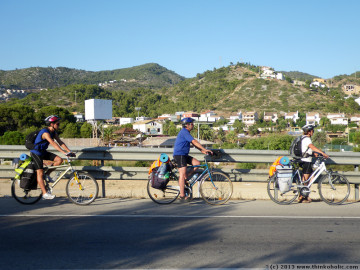 previously, on thinkoholic.com…
in the long long ago (a.k.a. 2009), my parents, little brother and i embarked on a small adventure through europe.
our goal was to get to denia (spain) right from our doorstep in rum/innsbruck (austria), using only our bicycles, while keeping the budget as low as possible. to make things a bit more interesting, we split up into two teams racing each other: team 1 (mom and dad) took a route through italy and france, team 2 (anton and i) went through switzerland and france. the team that arrived at our destination first, would win.
we sent a postcard home every few days to record our progress along the 2200 km journey and prove when we were where.
…here's part three of our adventure: teams one and two – anton and i, reunited with our parents – cycling south from figueres, spain (near the french border) south towards our destination, dénia.