"Vom Essen Besessen" was a food blog which my brother and I ran from 2008 to 2020. This page was rescued and copied to thinkoholic.com before the food blog was shut down.
Manchmal ist es gar nicht so einfach, das perfekte Rezept einer traditionellen Speise zu finden. Hin und wieder gelingt es aber, Oma eines ihrer Geheimrezepte zu entlocken.
Ein solches traditionelles Schmankerl aus Tirol möchten wir heute mit euch teilen: Tiroler Blattln, genau so wie sie sein sollen: Nach Omas Rezept.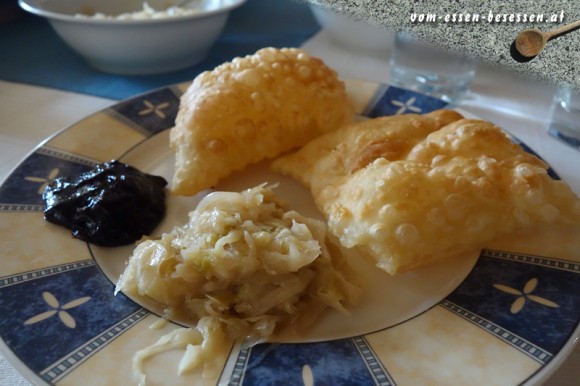 Die lecker-knusprigen Teigblattln sind gar nicht so aufwändig wie erwartet, und schon in ca. 20-30 Minuten bereit zum Verzehr.
Je nach Vorliebe werden sie mit eingebranntem Sauerkraut belegt oder mit Powidl-Marmelade (Zwetschgen-Mus) bestrichen – oder mit beiden, in dieser Reihenfolge. ;)
Zutaten:
600 g Mehl
60 g Butter
2 Prisen Salz
1 Ei
150 ml Milch
Zubereitung:
Butter schmelzen
Mehl, Butter und Salz in einer Schüssel vermengen, Milch und das Ei hinzu geben und verrühren.
Zu einem glatten Teig kneten, der nicht auf der Arbeitsfläche kleben sollte (ansonsten einfach noch etwas Mehl zugeben).
Den Teig ca. 2 mm dick ausrollen und mit einem Teigrad in Stücke von ca. 10 x 10 cm radeln.
In einer Pfanne etwas Pflanzenöl erhitzen (mind. 6 mm hoch, damit die Blattln schön aufgehen).
Teigblattln einzeln ins Öl legen, jedoch vor dem Backen noch einmal etwas ausziehen.
Wenn die Tiroler Blattln wieder auftauchen, diese mit einem Löffel noch einige Male mit heißem Öl begießen.
Sobald sie goldgelb/-braun sind (nach ca. 1 Minute) wenden, dann heraus nehmen und auf etwas Küchenrolle abtropfen lassen.
Heiß servieren, wahlweise mit Sauerkraut und/oder Powidl-Marmelade. Mahlzeit!