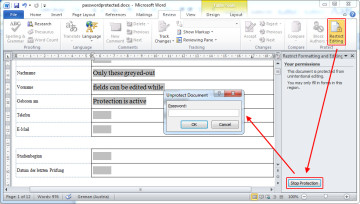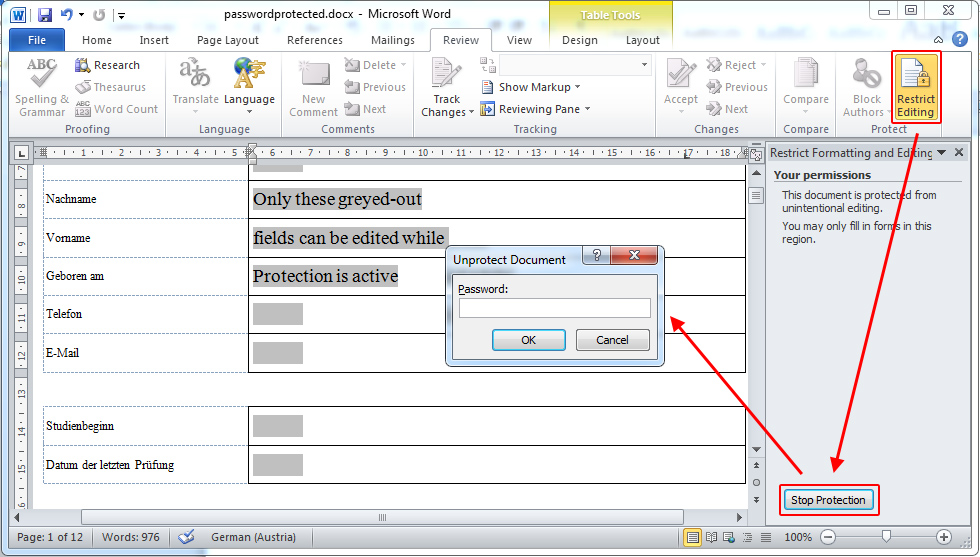 I'm regularly annoyed at password-protected Microsoft Word files that only permit editing of certain aspects of the document such as form fields. By itself, Word's "Restricted Editing" isn't necessarily a bad thing. It's the fact that file creators are usually very conservative and prefer to disallow editing something "just in case", rather than giving users the option to add text somewhere unexpected.
The result is often that in order to complete a form, one must print it out and amend it with a pen, or convert to PDF and use the "comment" function.
Looking for a way around, I recently found out how to remove the Document Protection from Word files without knowing the actual password*:
* Note that this method only works with Word Docs that are protected from editing, not files that require a password to open.
Open the Word file in question (doc, docx)
Choose "File", "Save File As", and make sure the file format is set to "Rich-Text-Format (*.rtf)". Close the file in Word (important!)

Open the new Rich-Text file with a text editor (e.g. Notepad or Notepad++). You can do so by dragging and dropping it into the editor window, or choose "File", "Open File", and set the file format to "All files (*.*)".
Find (ctrl-f) "passwordhash" and replace the string that follows with something else (e.g. "nopassword"). Save and close the file in your text editor.

Re-open the modified Rich-Text file in Word, go to "Review", "Restrict Editing" and click on "Stop Protection" (german version: "Überprüfen" – "Bearbeitung Einschränken" – "Schutz aufheben"). Uncheck all tick-boxes.

Done. You've unprotected your Word file without ever knowing the password.
Optional: Convert your file back to its original file format by selecting "File", "Save As", and choosing the original file format.
I've successfully tested the above workaround with Microsoft Office Professional Plus 2010 and Microsoft Office Professional Plus 2013. Please let me know whether this works with older/newer Office versions by commenting on this post!
Also, if this tutorial just saved you a lot of time and work, my paypal page is always open for a cup of tea or, preferably, a piece of cake. :)