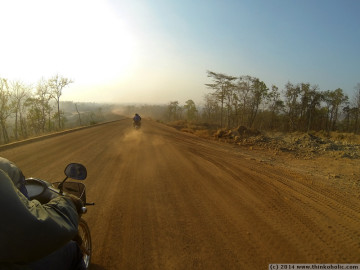 if you're traveling to the northeast of cambodia, you might find yourself trying to find a direct route between the major towns of rattanakiri and mondulkiri: ban lung and sen monorom, respectively.
as you'll read in the travel guidebooks, there's no direct bus connection, only a nightmarish road, and a very bumpy, expensive road. however, road conditions have greatly improved, and it's not necessarily as difficult to organize as it once was.
here's what we did:
according to the books, you first need to catch a share taxi south to lumphat, then take a motodup to koh nhek, and continue to sen monorom by minibus. the second part of the trip (lumphat to koh nhek) is reportedly a 6-7 hour ride, which due to the bad road conditions is only possible on a motodup (motorbike taxi).
the entire journey is described as adventurous and not very easy to organize.
when we visited ban lung in late february (2014), we talked to the friendly girl at smiling tours (who was very honest about the bad state of the forests that most treks lead to). her information regarding direct travel to sen monorom was in accordance with the books.
initial prices were 100 dollars for 2 passengers to koh nhek (6-7 hours), and 140 to sen monorom (another 4 hours, plus overnight stay in sen monorom for the drivers). we eventually agreed on 85 dollars for 2 pax, which seemed expensive but realistic for the described trip.
ban lung to koh nhek
we were picked up at 7 a.m. at our hotel, loaded our backpacks onto the moto, and took off. however, the new road between lumphat and koh nhek had almost been complete, and in much better shape then the "in good shape" road between koh nhek and sen monorom. so, instead of 6-7 hours on a very bumpy road, we were surprised to find ourselves in koh nhek just two hours later.
42.5 dollars per person was far too much for that. however, the fact that the motodup drivers spent the morning and early afternoon at a restaurant at the main intersection might suggest that they just never told anybody about the new road being (nearly) finished.
not many travelers visit the village, so we decided to stay for a day. there were a handful of guesthouses along the main road with only khmer-language signs, and maybe an english-speaking teenager per house. room prices were rather expensive at 10 $ per room and night. in koh nhek, there's a local market and a nearby lake to see, but that's about it. still, it was very interesting to get a glimpse of local life without the influence of tourism.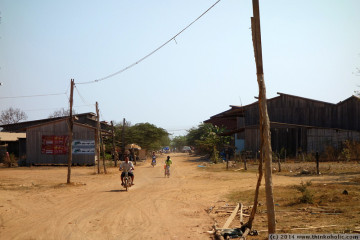 koh nhek to sen monorom
minibuses to sen monorom started from the main crossing (acleda bank) between 7 and 8 a.m. we had no trouble finding one, and the 4-hour ride was 7.50 $ per person.
as mentioned, the road was described as "in good shape", which shouldn't lead you to believe that you won't have to get off the bus once or twice when it gets stuck.