seiland is an island off hammerfest in finnmark, norway's far northeast county. the island consists mainly of national park and a few, relatively isolated settlements. a few years ago, math and i found two wonderful couchsurfing hosts, mimmi and anton, in eidvågeid in the northern part of the island.
the picture below shows the panoramic views of lake muotkevuonjavri, taken along a hike between the settlements of hønseby and eidvågeidet:

after three long years, i still remember the surreal calmness of the place, just a short ferry-ride from the world's northernmost town (situated at 70 degrees north).
during our travels through northern norway, the sun didn't set for 10 straight days. our first midnight sun experience was that same day, on seiland: after a dinner of insanely fresh sei (codfish) – we had it right on our hosts' boat – we came back to the house, were treated to fresh waffles and home-made jams, and watched the sun descend towards the horizon, and then crawl its way back up towards another day.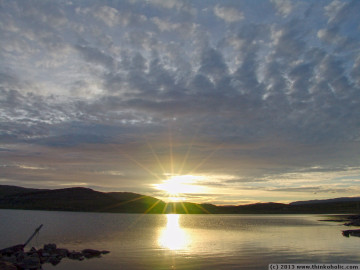 i thought i was prepared for the sight, but my mind just didn't seem to grasp the concept and expected the sun set at any time.