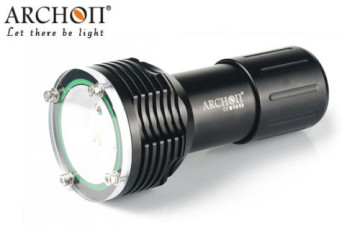 underwater photography is expensive! underwater housings for digital cameras – point and shoot as well as SLR or mirrorless cameras – often cost much more than the actual cameras, and other components such as underwater strobes or video lights are similarly expensive (starting at 500 USD for the cheapest brand name lights, and >1000 USD for the ones other divers recommend). however, artificial light makes all the difference under water, where light is increasingly limited the deeper you dive.
i've been taking pictures with a Sony RX100 and Meikon RX100 housing, and have also shot some underwater video using GoPro cameras (Hero 3 Black and Hero 5 Black), but until now this was mostly with available light rather than an external light source. because i can't really justify buying these expensive parts with my relatively infrequent diving trips, i've been looking for a relatively inexpensive way to get lights that can be used both for video and still photography.
after several nights of online research, i have decided on an Archon dive light which is both very affordable and popular in online forums (and therefore tested by the masses).
here's my new setup:

Archon D32VR photo/video light (a.k.a. Archon W38VR)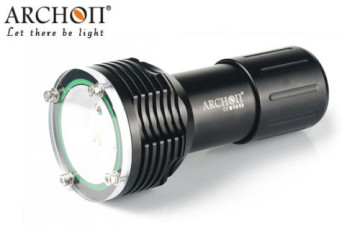 160 USD including battery and charger
the combination of price and brightness of this light is basically unbeatable. the lamp has a wide 120 degree beam which evenly illuminates the scene and is even suitable for wide-angle GoPro recordings. note that early batches (pre-2015) of the DV32R produced some flickering at low power, but the problem was reportedly fixed.
i got mine here on eBay, but AliExpress and Amazon are worth checking as well. make sure that the battery and charger are included in the cheaper listings!
official specs:
LEDs and Brightness: 2x Cree XM-L2 U2 (1400lm), 2x Red Cree XP-N3 (200lm)
Color temperature: 5000k (white), 610-630nm wave length
Mode: High (90-120mins) > Low (240mins) > Red (210mins)
Lamp Life: 100000 Hours
Angle of light beam: 120°
Body material: durable aircraft-grade aluminum alloy.
Surface treatment: Premium Type III hard-anodized anti-abrasive finish.
Color: Black
Battery: 32650 Li- ion battery *1
With battery over-discharging protection, polarity reversing protection
Operation voltage: 2.8V to 4.5V
Water resistant deepness:100 meters underwater
Size: 133(length)*28(dia. of body)*60mm (dia. of head).
Weight: 290 g (w/o batteries)
CamDive Aluminium tray with 2 handles + ball mounts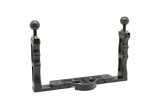 110 USD
from the reviews and product pictures, this camera tray seemed well-manufactured and lightweight. i chose bare, rounded aluminium handles over the otherwise common rubber grips.
total weight: 550 g

Archon Z03 ball mount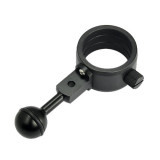 30 USD
the Z03 ball mount is used to attach the torch to the camera tray via ball clamps.
mine came from eBay.


1-inch ball clamps to connect two ball mounts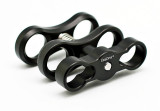 25 USD each
my setup has two, one to mount the dive light and one to mount an additional GoPro on the other handle. the price for these varies a lot, e.g. 25 USD on Amazon vs. 10 USD on Aliexpress (including, in the second case, a GoPro ball mount).

GoPro 1-inch ball mount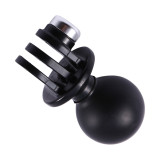 10-15 USD
depending on manufacturer and shop, the price seems o vary between 10 and 35 USD. mine came from Aliexpress and included a ball clamp.
i'll be sure to write about my experience and post some sample footage once i get to test this setup. if you're interested in how it went, please leave a comment and i will keep you posted!
—–
here are some of the other affordable lights i considered:
Archon D34VR (W40VR)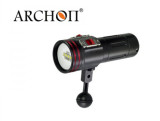 from 250 USD on Amazon, from 270 USD on eBay
up to 2600 lumen, 120 degree beam angle, up to 5 hours per battery
the light looks interesting, but there are a few reports of flooding and mixed experience with returns.
official specs:
* Maximum Luminance up to 2600 Lumens for main lightsource White LED
* Equipped with total Ten LED bulbs in different 4 colors:
– Four White Cree XM-L2 U2 LED
– Two Red Cree XP-E N3 LED
– Two Purple 6565 LED
– Two UV LED
* Powered by One 32650 Li-ion battery (Included)
* Three operation modes: High->Low->Strobe for White Light
* Successive switching on/off within two seconds to cycle through white,red, purple and UV light
* Professional scuba diving video flashlight,waterproof to 100m underwater
* Wide light beam angle to 120°
* Dual magnetic control switch can be controlling White LED and Red/Purple/UV Led independently and also can be light up at the same time
* Low battery indication to let you know the battery situation easier
* Adopted with battery over-discharging protection
* Reverse polarity protection to prevent improper battery installation
* Made of Durable aircraft-grade aluminium
* Finished by type III hard-anodized and anti-corrosion of seawater finishing
* Toughened ultra-clear thicker PC lens with anti-crack quality
* Integrated desgin for standard pillar and flashlight. It can be attached to most of the diving arms such as Z06, Z07, Z08, Z09, Z10 for diving video
Light and Motion Sola Dive 800

from 300 USD on Amazon
up to 800 lumen, up to 60 degree angle, 4.5 hours at full brightness, switchable between flood (800 lm, 60°) and spot (500 lm, 12°) modes
Sola is a more established manufacturer, but their cheapest suitable option is the Sola Dive 800 at 500$, so it's a considerable step up from the cheaper alternatives. Even if(!) Archon, like some other Chinese manufacturers, "exaggerates" their brightness rating, they will probably be at least as bright as the Archon.
official specs:
Lumens at 60° (flood):
– High: 800 lm
– Med: 400 lm
– Low: 200
Lumens at 12° (spot):
– High: 500 lm
– Med: 250 lm
– Low: 125 lm
Run Time:
– High: 70 mins
– Med: 140 mins
– Low: 280 mins
Charge Time: 2.5 hrs
System Weight: 244 g
Size: 4″ x 2.1″ x 2.1″
DiveRightInScuba (DRIS) 1000 Lumen Dive Light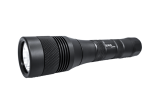 75 USD on DiveRightInScuba
up to 1000 lumen, 11 degree beam angle, 7 hours at full brightness
DRIS gets good reviews and reports of good customer service experience, but the light beam angle is only 11 degrees, so not at all suitable for photo or video. it might work with some modifications such as aa diffuser.
it may also be a worthwile option if you're just looking for an ordinary (non-photo) dive light.
official specs:
Light Source:LED CREE XML T6LED
Lifespan: 50,000 h
Beam Angle: 10 Degrees
Color Temperature: 6000 K – 7000 K
Power Supply: 4 x C batteries
Cable Length: 46 inches
Material: Anodized Aluminum
Depth Rating: 150 meters
Lumen:
– High: 1000 Lumens
– Medium: 600 Lumens
– Low: 400 Lumens
– Extra Low: 200 Lumens
Runtime:
– High: 2.5 hours
– Medium: 5 hours
– Low: 6.5 hours
– Extra low: 12 hours
Weight: 1.6 lbs
Housing Dimensions: 10.5 inches x 1.5 inches
Light Head Dimensions: 3 inches x 2 inches
Strobe Feature: Yes (3 second hold down)
Switch: Magnetically controlled push switch
Sea&Sea YS-01 Photo Strobe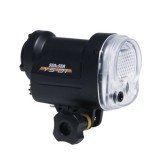 430 USD on Amazon and eBay
dedicated slave flash (strobe), guide number 20 (ISO 100/m), 100 degree beam angle,
the YS-01 seems like a good strobe to get started with, but i want to be able to choose video for some situations.
official specs:
[Guide Number (ISO 100/m) (land)] 20
[Beam Angle] 100°x 100° (with diffuser 110°x110°)
[Batteries] 4xAA A: 6V Ni-MH: 4.8V
[Number of Flashes] A: 230 Ni-MH: 330
[Recycle time (full)] A: 2.5 sec. Ni-MH: 1.9 sec.
[Color temperature] 5600K
[Color temperature w/diffuser] 5250K
[Depth rating] 75m / 250ft
[Dimensions (WxHxD)] 68x108x129mm / 2.7×4.3×5.2inch
[Weight] : 450g / 15.8oz (w/o batteries) * Attached a fixing bolt to the Strobe.
[Underwater weight] : Approx.+10g / -0.4oz(w/ batteries)
[Others]
– Exposure control: DS-TTL, Light level control dial (GN): 1 / 1.4 / 2 / 2.8 / 4 / 5.6 / 8 / 11 / 16 / 20 (10 steps)
– Pre-flash control: Equipped with pre-flash cancel mode
– DS-TTL function
– Slave function
– Auto power OFF function
– Sync cord: Fiber-Optic Cable
– Over-pressure relief valve
– LED target light
are you looking for an affordable underwater photo/video light? did i miss an interesting product? let me know in the comments!