just got off an interesting chat with customer support at carbonite online backup, and thought i'd share my some interesting things you might not know about the backup service: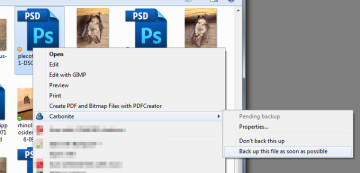 carbonite generally keeps deleted files in the cloud for 30 days.
that rule does not apply if you manually exclude files from the backup (right-click a file/folder and choose "carbonite" – "don't back this up"). these will be removed after 72 hours.
… so my plan to prioritize upload of certain files by temporarily removing an extensive picture library from the backup backfired. :\
to prioritize files for upload the right way, right-click files that are waiting to be uploaded and select "back up this file as soon as possible". this option currently only shows up for files (not folders) which are pending upload.
the "upload throttle" that is mentioned on the carbonite website (uplaod speed is reduced for the rest of the day after 1-2 GB were uploaded) only applies if your backup size exceeds about 200 GB.
you can speed up your backup process by trying the following:

add the two running processes CarboniteService.exe and CarboniteUI to your antivirus software's exclusion list ("exclude files", "do not check", …).
define the same two processes as "trusted applications" in your firewall software
leave your computer on over night or when you're not at home (not very environmentally friendly).
—
full disclosure: if you decide to sign up with carbonite through the provided referral link, we will both get a 20 $ amazon.com gift card.