i had to disassemble the lens part of my "goode olde" sony cybershot dsc-f828 due to a (stupidly self-caused) problem with the flash. since i couldn't find any photo-tutorial online, i thought i'd post my own pictures from the process.
the f828 was introduced in 2003, so of course i do realize that it is a pretty outdated camera to post a how-to for. however, it's travelled the world with me, and i'm sure there are other f828-users left who might run into hardware problems one day.
step 1: remove 4 screws on the left side of the lens, and the one on the display's side.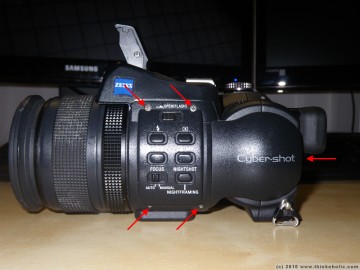 step 2: remove both screws at the tripod mount. now you can remove the left enclosure part from the lens.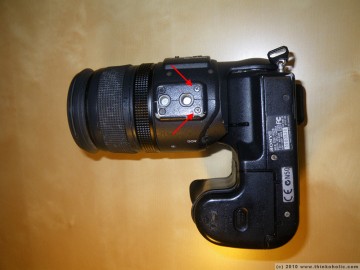 step 3: disconnect the 3 ribbon cables on the left side of the lens (1-3) and the one on the bottom (4). you can easily remove the first 3 by lifting the grey part from the plug with a fingernail.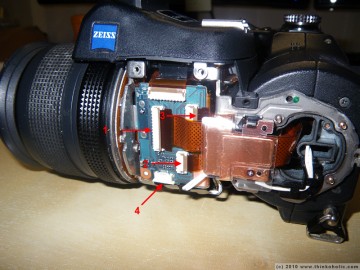 step 4: remove the 2 screws on the right side. now carefully move the lens to the left and it's almost loose (apart from the power cable).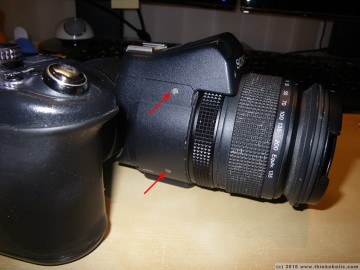 step 5: when you remove the white power connector from its shoe (1), your lens is completely disconnected from the rest of the body. if you plan to remove the flash, disconnect the three ribbon cables (2-4).
step 6: in order to remove the flash element, you need to unscrew two rather hidden screws below the element. the two screws you're looking for are located at (1) and (2). also, remove the ribbon cable (3)
step 7: lift off the flash piece.
step 8: remove these 5 screws in order to open the casing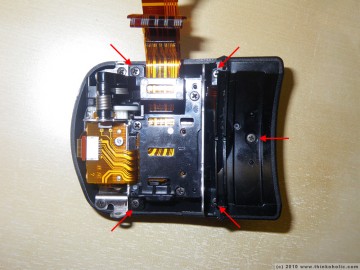 step 9: when the front part is removed, you can see the brightness sensor (1; to measure the required flash intensity?) and focus laser (2; "Hologram AF"). if you constantly experience overexposed photos when using the flash, the problem might be a misaligned brightness sensor in relation to the little transparent plastic tube.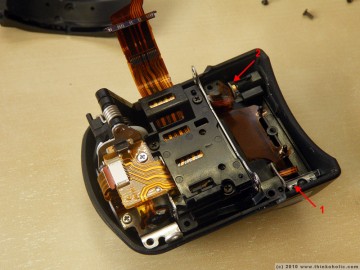 step 10: after removal of the other 4 screws, you can lift out the actual flash hardware from the casing.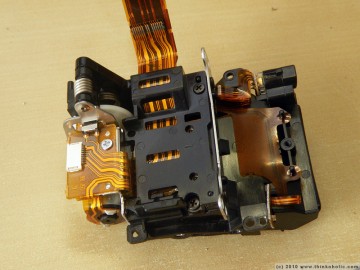 here's a final shot of the mobile flash parts that spring open: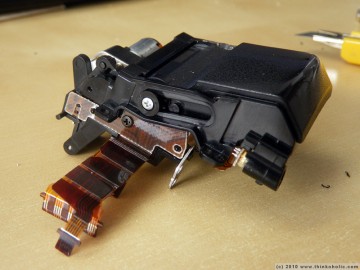 and now that i've reassembled the entire camera, i'm left with one spare screw…