dear reader, please allow me to introduce our charity project:
my friend simon spent a volontary year as a teacher in a small, rural school in kenyas outback, so to speak. there is neither running water nor electricity available in the little village of ugari, kenya, some 300 km west of nairobi.
after his return, we (the wilten boys' choir) organized a charity concert, which provided money to build some much-needed infrastructure for the secondary school, which had just been set up in an unfinished classroom.
one year after our charity concert, on october 24th, we are organizing a second concert in innsbruck, during which we will try to collect more money for ugari, as well as present the changes in ugari within the last 12 months. it's safe to say that A LOT has changed!
i've put quite some time and effort into the project lately, so i wanted to point you in the direction of our new website slash blog:
Kinder für Kinder – Wiltener Sängerknaben für Ugari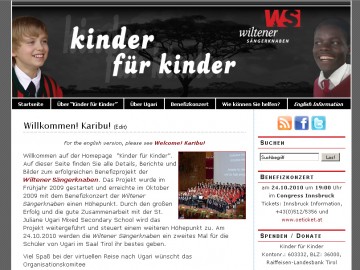 there's some information in english, if you don't happen to speak german.
if you'd like to support our aim, there are several ways you can do so – from donations to sponsorship. please contact me if you're interested in helping.