meet alfred the book scorpion (also: house scorpion):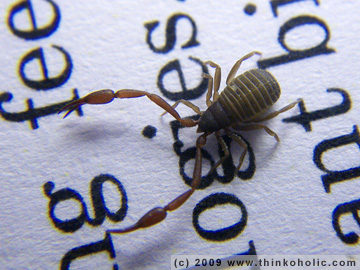 book scorpion (chelifer cancroides)
i noticed this little guy crawl up from behind a shelf in my room.
pseudoscorpions (they resemble scorpions, but lack the long abdomen and stinger of "real" scorpions) usually hunt for small insects like psocoptera (booklice, barklice), so i think he'll be allowed to stay in my room.
i named him alfred, after batman's butler.
over at somethingcrawlinginmyhair.com, there's an article about book scorpions and the challenge of identification by tim eisele.