(für die deutsche version bitte auf "more" klicken.)
here's a short glimpse into what my studies are about.
it's the protocol of a practical class about plant physiology.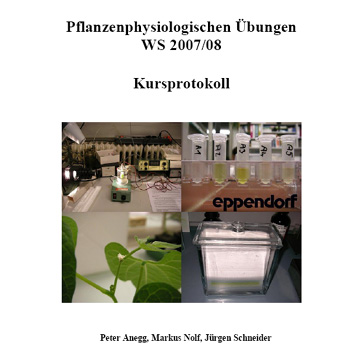 (click to open PDF, 1.2 MB)
for those of you who don't speak german (and the non-biologists among us), there are some pretty pictures to look at. ;)

contents: photosynthesis activity and its dependency on temperature (measured by the level of chlorophyll fluorescence), catalases, peroxidases, phenolases, alcohol dehydrogenase, antioxidant levels in foods, chloroplast pigments, measuring photosynthetic oxygen production with isolated chloroplasts, abscission and the role of phytohormones (2,4-dichlorophenoxyacetic acid, α-naphthaleneacetic acid, indole-3-acetic acid).
—
das selbe auf deutsch:
anbei ein kurzer einblick in das biologiestudium: ein praktikums-protokoll aus der pflanzenphysiologie.
für die nicht-biologen unter uns gibt es zumindest ein paar nette bilder zum anschauen. ;)
inhalt: photosynthese-aktivität und der bezug zur temperatur (gemessen über die chlorophyll-fluoreszenz), katalasen, peroxidasen, phenolasen, alkoholdehydrogenase, antioxidantien in lebensmitteln, pigmente der chloroplasten, messung der photosynthetischen sauerstoffproduktion an isolierten chloroplasten, abszission (laubabwurf) und die rolle der phytohormone (2,4-dichlorphenoxyessigsäure, α-naphthylessigsäure, indol-3-essigsäure).