"Vom Essen Besessen" was a food blog which my brother and I ran from 2008 to 2020. This page was rescued and copied to thinkoholic.com before the food blog was shut down.
Wer für die Feiertage der kommenden Monate noch das ganz Besondere sucht, findet dieses Gericht hier vielleicht anregend: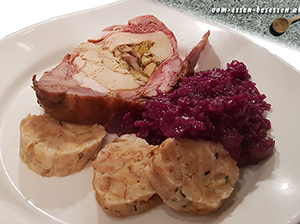 Das Wort englische Kunstwort "Turducken" kommt von seinen drei Hauptzutaten: ein Truthahn (TURkey), gefüllt mit einer Ente (DUCk), die mit wiederum einem Brathuhn (chicKEN) gefüllt ist.
Man könnte es wohl mit TrutEntHuhn übersetzen.
Das Gericht ist, wie könnte es anders sein, in den Vereinigten Staaten von Amerikasehr beliebt als Festtagsbraten zu Thanksgiving (das amerikanische Pendant zu Erntedank)
Die drei Geflügelarten werden dabei entbeint und als Ganzes ineinander gefüllt. Zusätzlich dienen als Füllung weitere Zutaten, zum Beispiel Maisbrotmasse und Wurstbrät. Das vorbereitete Fleisch wird dann im Backofen gebraten oder gegrillt.
Interessanterweise stammt die Idee zu diesem Gericht vermutlich aus dem mittelalterlichen Europa: Besonders aus Frankreich sind aus den höfischen Küchen einige Gerichte mit ganzen, ineinander gefüllten Tieren überliefert.
Den Höhepunkt dieser Art der Zubereitung bietet wohl ein französisches Rezept aus dem 19. Jahrhundert (Cardelli, 1829): Ein Braten mit 16 (sechzehn!) ineinandergesteckten Vögeln, nämlich:
Truthahn
Gans
Fasan
Brathuhn
Ente
Perlhuhn
Krickente
Waldschnepfe
Rebhuhn
Regenpfeifer
Kiebitz
Wachtel
Drossel
Lerche
Ortolan
Gartengrasmücke
, die nur mehr mit einer einzigen
Olive
…und, Appetit bekommen? ;)
Weblinks:
Wikipedia: Turducken
Google Bildersuche: Turducken