"Vom Essen Besessen" was a food blog which my brother and I ran from 2008 to 2020. This page was rescued and copied to thinkoholic.com before the food blog was shut down.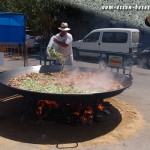 Sonne, Hitze und Siesta: Für den Urlaub ging's heuer ab nach Spanien. Genauer gesagt etwas unterhalb von Valencia – Herkunft einer der bekanntesten Paella-Variationen: Paella valenciana.
…und wie es der Zufall so wollte, kamen wir auch noch gerade rechtzeitig zum großen Riesenpaella-Fest, das jeden August in dem kleinen Dorf Els Poblets stattfindet.
Als fleißige vom-essen-besessen.at-Reporter machten ich mir ein paar Notizen, und können deshalb hier das Rezept für Riesenpaella (span. "Paella Monumental"; ungefähre Mengenangaben) vorstellen:
1 Paella-Pfanne, Durchmesser ca. 2,5 Meter
ein Holzfeuer unter der Pfanne anrichten und 10 Liter Olivenöl darin aufheizen
4 Kisten Hühnerklein (Hühnerkeulen, Hühnerbrust-Stücke), gesamt ca. 40 kg gleichmäßig anbraten
kurze Zeit später 5 kg Leber dazugeben und ebenfalls anbraten
mit 15 kg geschälten Tomaten löschen und mit ca. 1 kg Kochsalz salzen
3 große Kübel "Verdura Paella" (Paella-Gemüse: Gartenbohnen und große, weiße Bohnen), gesamt ca. 30 kg
wieder salzen (1 kg)
9 gehäufte große Kochlöffel Safran zugeben,
dann mit 4 Fässern Wasser (je ca. 80 Liter) aufgießen und gut umrühren.
8-10 gehäufte große Löffel Lebensmittelfarbe in die Brühe mischen, damit der Reis später seine typische Paella-Farbe bekommt
7 kg Schnecken locker auf der ganzen Pfanne verstreuen
mit Salz abschmecken
70-80 kg Reis gleichmäßig verteilen
köcheln lassen, bis das ganze Wasser verdampft (bzw. eingezogen) ist.

Fertig!
Fotos vom Event gibts natürlich auch: