we've just spent five weeks in vanuatu, largely off the beaten track, and wanted to share some first-hand and up-to-date travel information and tipps for independent travellers, from december 2017 and january 2018.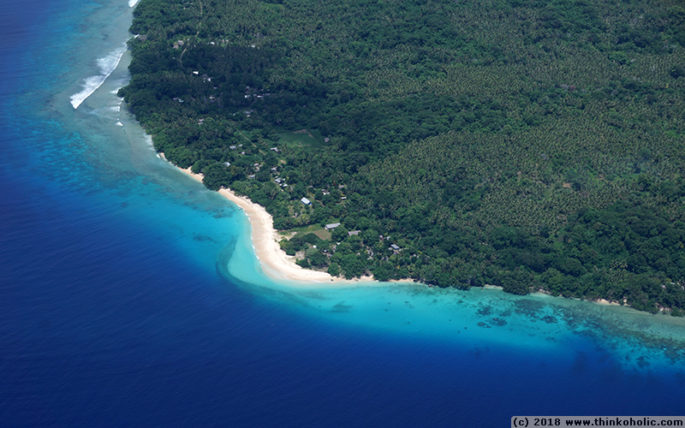 i'm typing this text on the phone to post it while it's fresh, so proper formatting and some pictures will follow later.
general notes
online resources:
positive earth's vanuatu aelan walkabaot ("island walkabout") at positiveearth.org/bungalows/explorer.htm has lots of information about accommodation, transport, and things to see on all the islands, even in very remote parts of vanuatu. the website is getting a little outdated, so prices have increased e.g. from 2500 to 3000 very p.p. for typical accommodation in the banks province, but in many cases it lists several options that other resources don't, and in greater detail.
shefa travel at shefatravel.weebly.com is run by the shefa province tourism office and has good travel info for efate, pele & nguna, emae & tongoa, and epi islands, including phone numbers to contact local-run bungalows directly.
similar websites exist for the some of the other provinces, e.g. malampa.travel for malekula and ambrym in malampa province, but these seem to have a central non-profit (but nonetheless slightly more expensive) booking office and don't give direct contact options.
there are apps that let you download web content for offline use, such as OffLine Browser for android. very handy for remote where we found cellphone reception and data connections to be very unreliable.
getting money / ATMs:
ANZ has a withdrawal maximum of 44,000 vatu per transaction and charges 800 vatu per transaction on top of your home bank fees. we found ATMs in port vila and luganville, as well as these towns' airports.
bred bank provides up to 100,000 per transaction and charges only 500 vatu in fees. we saw ATMs in port vila and luganville
safety:
at no point while in vanuatu did we feel unsafe. once we left the city and bigger towns, we basically never even locked our doors (many places didn't even have locks, so bring your own padlock if you think you need one), and culturally, it a closed door effectively equals a locked door which nobody will open without permission.
new years and public transport:
don't expect any public long-distance transport (e.g. lakatoro to lamap) on january 1 OR 2, both of which are holidays in vanuatu.
island notes
espiritu santo island
luganville
transport:
local minibuses charge 150 around town, and 200 to million dollar point and the airport.
accommodation:
le motel hibiscus (3500 vatu per room)
marie, ph. 36727, 37794, lemotelhac@gmail.com, facebook
rooms are very clean, have ensuites, sleep up to three (1 double bed, 1 single) and have a kitchenette. free wifi in the common area and rooms 1 and across (6 or 7?). hibiscus is located very close to the centre and market, but in a more quiet parallel street.
owner marie is great, cheerful and made us feel like home. she also had lots of valuable recommendations and tips.
food:
market stall #4 had the best fried fish (500 vatu for main, appetizer and dessert fruit)
attar restaurant (main road, next to Allan Power diving) had great burgers for around 2500 vatu
activities:
milennium cave was great and well worth the money. included about 300 m walking down a cave river, then canyoning down the river. we missed the final third (drift/swim down a calm gorge) due to rain and rising water levels. canyoning guides were very professional.
diving the SS president coolidge wreck was fantastic. it's the largest and most accessible wreck in the world. we went with allan power dive operations, run and owned by the guy who basically started commercial diving in santo. allan was there for the morning tea and had answers to all our questions about the wreck. highly recommended. 7000 vatu per dive including all rental gear.
port olry
transport:
a minibus leaves in the afternoon, 1000 vatu p.p. direct. return trips start around 6 a.m. in port olry
a taxi (anytime, optional stops at the water holes etc., see below) was 6000 for the trip.
water hole stops:
riri blue hole (500 vatu p.p.) was very nice. good rope swing on the far right.
nanta blue hole (1000 vatu p.p.) was gorgeous, deep blue and super clear. bring a snorkel!
matevulu blue hole (no information) – we skipped this one.
there's another water hole near lonnoc beach – skipped this one too.
accommodation:
little paradise bungalows (2500 p.p. including breakfast)
tarcissus, ph. 5424893
ensuite bungalows (toilet inside, shower outside in a fenced area with passionfruit hanging around you) with a kettle and rustic gas stove. electricity from around sunset until ~23:00.
breakfast was fresh bread, fresh fruit, spreads, set at your bungalow in the morning so we could have breakfast whenever we got up.
food:
little paradise restaurant next door belongs together and offers a discount on some meals, including coconut crab (2500 instead of 3500 vatu), lobster (2500 instead of 4000 vatu), curry chicken (500 instead of 1200 vatu). it's possible to share the coconut crab and lobster between two.
another option is to get "mama-cooked" meals from nextdoor to your bungalow (1000 vatu)
a coop shop in the village offers snacks, homemade kumala-chips and other basics.
lonnoc / towoc / champagne beach
transport:
the minibus from port olry to the main street intersection of champagne beach (about 30 minutes?) left at 6:00 a.m. and cost 250 vatu. from there it's a 15-20 min walk along the dirt road to lonnoc and neighbouring towoc
accommodation:
towoc bungalow (2500 vatu p.p. including breakfast)
ph. 5636173, facebook
lovely bungalows, share bucket showers. solar power light all day, phone charging is possible in the restaurant. free (but slooooow) wifi.
dinner meals 1500-2000, lunch snacks from 500 (kumara chips). be sure to order your dinner early – on one occasion it took us 1.5h before we received our meals (and we were the first to order).
breakfast was pancakes and fresh fruit.
activities:
champagne beach – beautiful white-sand beach. entry fees are 2000 per car, 500 p.p. walking in from lonnoc, or free for guests of towoc bungalows.
banks islands
sola (vanua lava)
accommodation:
leumerous bungalows & yacht club (3000 p.p. including all meals)
robert & sarah, ph. 5623745, 5902810, leumerousbungalow@gmail.com
spatious bungalows near the beach, great food! sarah also offered to do some laundry for us (no extra charge). phones can be charged in the owner's bungalow. all meals were generous and included cooked dishes plus fruit for dessert.
leumerous is about a 30 min walk from the airport (follow the only road, keep straight). friendly locals offered us a lift on the back of their truck.
two other accommodation options are also in sola: ulkel guesthouse (ph. 5693858) and seina bungalows (ph. 5432771, 7750293). both are across the road from the sea.
there are 2 bigger stores carrying the basics, and several smaller ones in sola.
activities:
robert can arrange the following trips:
volcano hike along a hot-water river, 2200 p.p. + boat to laingetak village (see below). awesome hike and sulphur fields, with our guide walter (the chief's son)!
turtle sanctuary, 1600 p.p. + boat to laingetak village
fishing trip: 1200 per trip
twin cascades by boat: 20000 per trip (2-3 h boat ride one way, to the other side of the island)
twin waterfalls by truck + hike: around 16000 per trip
the boat charter to laingetak (45 mins) seemed a bit steep at 8000 vatu, but we've read that fuel is expensive in the north.
robert tried to push us gently towards a fishing/snorkeling trip, but it was pretty obvious that it was to pay for the extra petrol. otherwise we really enjoyed our stay and the hosts' hospitality.
rah island (motalava)
accommodation:
dori lagoon bungalows (3000 p.p. including all meals)
cecil & ruti (ph. 6348045, 7774881, email dorilagoon@gmail.com, facebook)
* the banks are remote and locals seem to just be adding email and fb, so expect some delay on these media.
dori lagoon bungalow was our favourite in the entire country. the bungalow was overflowing with flowers, made from mostly local materials (e.g. giant clamshell as a sink). there's a western style shower and flush toilet (ensuite) and led lighting. charging is available in the kitchen. ruti is an amazing cook and we loved every meal. all meals were generous and included cooked dishes plus fruit for dessert.
make sure you book ahead – we were treated to the best welcome EVER – think special welcome choir, choreography, flower leis and more.
transport:
share speedboats from sola leave mon/wed/Fri and are 1000 p.p., charter 13000
the airport transfer to motalava airport was 1500 p.p. for four people (6000 per trip). there are only three working trucks on motalava, so you may have to get up early if the main trip is already full.
activities:
the rock of rah offers a top view of the entire island plus surroundings. if the visibility is good, you can see as far as ureparapara and the reef islands. cecil took us up for free, which was nice.
you can walk around the island at low tide (around 1.5h)
snorkeling was best in the west of the island, where the rock shelf drops off, just beyond the big rock with the coconut palms. we had to get the chief's permission to snorkel in the conservation area.
malekula island
don't expect everybody to speak english in malekula. villages seemed quite randomly to speak either french or english, never both. see below for details.
norsup – english speaking
accommodation:
nabelchel guesthouse (2500 p.p. incl breakfast)
tessi (ph. 48888, 7748030)
ok rooms, but the bathroom could have been cleaner (limestone was forming on the shower head and tap). there's 24h electricity and running water. within walking distance of the airport – turn left on the road when coming from the arrival area.
breakfast was egg on toast and fresh pineapple
lakatoro – english speaking
the biggest town on the island is very small. there's a small market, one or two large (but half empty) stores, an air vanuatu office, a restaurant. we even saw a BSP ATM at the north end of town, but didn't test if it accepts international cards.
eating:
the only restaurant we could find was nehtung in the north part of town, just south of vesete house and the supermarket, slightly up the hill. food was great. mains around 300-500 vatu, add ~50% after closing time (5 p.m.) – the owner reopens at night if you call ahead (ph. 7112554, 5742627).
vao island – french speaking
transport:
a share truck was 500 p.p., the short boat ride to the island was 50 p.p.
a truck charter to losinwei bay (near unmet) via the small nambas tour (see below) cost us 6000 vatu.
accommodation:
juliette's homestay bungalow (2000 p.p., breakfast 300, lunch/dinner 500)
(ph. 5496630, 7797624, french only)
it's a bungalow with separated double room and twin room, bucket shower and western style toilet (bucket flush) are external.
juliette helped us with planning our next steps and occasionally brought us random snacks (fruit, fresh banana chips!)
activities:
snorkeling on the west side of the island, where the speed boats are parked, was alright with a few nice reef spots. juliette sent her nephew along with us, who was very scared of sharks and made sure we never left what he considered the safe zone.
on our way back south we visited a small nambas tour in wala (5000 p.p.) with kastom dances, traditional food preparation, handicrafts, sand drawings and more. very educative, and well worth the visit!
losinwei – english speaking
transport:
200 p.p. for a share truck to lakatoro
accommodation:
dram dram bungalow (2500 p.p. incl. breakfast, meals 1000 p.p.)
rolin and sedhla amil (the chief; ph. 5980953, 5664340)
two room bungalow with one double room, one with three single beds. external western style toilet and bucket shower. the bungalow overlooks a nice garden and the salt&pepper black sand beach.
breakfast was bread and spreads (incl. coconut jam) + fresh pineapple. dinner was very nice too.
sedhla had some great stories of "the olden days", including how his father took part in the last cannibal feast arrival a new zealander didn't trade tobacco for yams fairly.
activities:
waterfall hike – nice hike, great cascade, and there are more pools beyond the cascade. includes a pineapple and cookie snack. 3500 p.p.
cannibal site – about 15 minutes walk from losinwei. two skulls (new zealander and foreign tribe), some more bones. 1000 p.p.
snorkeling was really nice just off the rocks to the left of the beach, with a nice young reef just around the corner.
lamap – french speaking
transport:
a share truck to lamap or black sands boat landing should be around 500 p.p.
since we were trying to travel on jan. 2 (as it turned out, a holiday), we paid 400 for a share truck to unua village, and then overpaid 9000 for a charter to black sands.
from black sands, a share boat (20-30 minutes) to lamap was 100 p.p. or up to 2500 for a charter.
accommodation:
lamap ocean view guesthouse (1800 p.p. incl. breakfast)
agnes (ph. 7102018, french only) was genuinely kind and a great help in organising transport to the maskelynes.
the guesthouse has 1 double and 3 single rooms, a lounge area and a self serve kitchen. share bathroom and western style toilet. town water wasn't working when we were there, so it was buckets for us.
it's located on the right, between the meteorological services and the school/mission precinct.
the shop nextdoor has fresh bread, simple dinner ingredients (instant noodles, canned fish etc.), and can charge your phone.
activities:
we ran into george (fr/en, ph. 5637623), a guide offering kanoe tours (2 h, 1500 p.p.) to see the dugongs, 20 of which reside in the bay near the point doucere landing. we couldn't reach him on our way back to lamap, so can't comment on the tour.
uliveo island (maskelyne island) – english speaking
transport:
a share boat from point doucere landing is around 700 vatu p.p., charters 2500. a truck from lamap to the landing is 1500 per trip. apparently there's a 500 vatu landing fee, which we weren't asked to pay.
accommodation:
senelich bungalows, pellongk village (2500-3500 p.p. incl. breakfast, meals 400-500)
julie (ph. 7789547, 7117096, senelich@gmail.com, also on FB)
beautiful, spacious waterfront bungalows with a porch over the water, view of ringi te suh conservation area and the ambrym volcanos. private but external flush toilet and (when we visited) bucket shower.
breakfast was a pack of plain punjas breakfast crackers, but we got bananas and pineapple when we requested some fruit.
senelich (and uliveo alltogether, see below) was definitely the least prepared place for tourism. while the accommodation was quite nice, hospitality and food were very basic. once the owner, julie, left for an interisland visit, it seemed that her daughter and son-in-law were basically avoiding talking to us as much as possible.
right nextdoor is batis sea side lodge with identical-looking waterfront bungalows (ph. 7751463).
manu guesthouse (pellongk village, patrick simeon) and malaflaf bungalow (lutes village, phillip among, discontinued phone number 7103474) are listed as great places to stay in some older guides/trip reports. both have been closed for a few years, in one case due to cyclone pam's damage).
activities:
snorkeling – there's an interesting mix of seagrass and coral in the bay, starting just beyond the lonely mangrove. the best coral was out behind the conservation area and hut, and along the left edge of the plateau where the boats come in (about 45-60 mins swimming one way).
ringi te suh conservation area (1000 p.p.) – the guide somehow didn't manage to show up and take us there in 3 days, without canceling or getting back to us. when we finally risked a peek inside the marked area ourselves while snorkeling nearby, it didn't seem very different to the surroundings, and only had a few clams interspersed in the shallow seagrass-coral mix. for us, not worth the visit/fee.
efate island
port vila
transport:
minibuses are 150 p.p. to/from the airport and 100 p.p. in town.
a minibus charter to blue lagoon was 6000 vatu for two, and we heard about 8000 vatu for a group of 8.
accommodation:
central inn (double 3500 per night) has small rooms and share bathrooms, but very centrally located between the produce and handicraft markets. free wifi in rooms.
paray lodge (double about 3500 per night) is a 15 min walk (or short minibus ride) south of the centre but has nicer, larger rooms. free wifi in rooms.
eating:
la cucina filipino (mains ~1000 vatu) is a small eatery on the main road, next to the lava bar, and has fantastic pork adobo and other delicious dishes. absolute must try!
cooked food at the market (mains 500) was also very nice (fried fish is always wonderful). you can also buy mudcrabs at the market (50 vatu per crab) and arrange to have them cooked (500 for the meal).
jill's cafe is praised in the guidebooks for the american style burgers (1000-1300 vatu), but we were a bit underwhelmed considering the prices.
activities:
blue lagoon (500 p.p.) is very pretty and has some nice rope swings for jumping in. don't go on a cruise ship day. a minibus charter is 6000-8000 vatu.
islands in the north of efate
information for these places is from a visit in august 2017, so unfortunately i don't remember some of the transport details.
pele island
transport:
catch a minibus from manples to emua landing, then a share or charter boat to the islands of pele and nguna
accommodation:
jowi bungalow (worearu village, 3500 p.p. including meals)
ph. 5622221, 5909491
twin bungalow with a twin room and another room with unknown configuration. external bath with western style toilet (bucket flush) and bucket shower. led light in the bungalow.
our stay at jowi was a fantastic experience. the owner of the bungalow was on efate, but his entire family including granny took care of us. the kids came around during the day to play and sing along (they loved my ukulele), meals were delicious and always much too large, and the hosts started a bonfire for us every evening.
activities:
snorkeling was ok right off the beach, but the reef is still recovering from cyclone pam. better areas were at the north tip of the island, and down at the giant clam garden: walk south along the beach until the path curves slightly inland. enter the sea here and swim out to the white buoy.
nguna island
transport:
a boat transfer between pele and nguna was (i believe) around 200 vatu.
accommodation:
nguna cove bungalows (taloa village, 3500 p.p. incl breakfast and dinner, lunch 500)
emma (ph. 7766263)
several brightly coloured bungalows with doubles and twin beds. ours had a solar charging station with usb outlets, perfect for charging phones.
shared western style flush toilet, bucket shower
food was very nice, plus the cooks set out a few green coconuts every day for guests.
nice snorkeling right off the beach, better towards the pele-facing end.
moso island (tranquility island)
accommodation:
tranquility island resort (see website for pricing)
sun and joe, ph. 7741348, tranquillitydive.com, facebook
this one's probably the most expensive place we've been to, but it was very nice and we prolonged our stay to get our advanced open water certifications. bungalows have private (external) showers and flush toilets and are set individually into separate little bays/clearings.
there's also the option to camp, with rental tents+mattresses and even housekeeping.
managers sun and joe were amazing and did everything to make sure we had a good time. food was great, and everyone shared a big table for dinner.
part of the resort is a green turtle sanctuary and nursery. you can help collect jellyfish and feed them to the turtles and sponsor a turtle which you get to name and release.
diving around the island was amazing, our favourites being the moso caves and owen's reef dive sites.
nice snorkelling north of the jetty, and superb snorkeling in the south of the island (tyre tree).
also, lots of young coconut crabs come out to the feeding sites after sunset. bring a torch. :)
—
…that's all of our notes. if you have any corrections, updates or additions, please share and leave a comment!