it's been almost exactly one year since our biological excursion to costa rica – one of the best excursions ever – ended, and i'd finally like to share with you some impressions of that great journey.
our field trip was led by dr. anton weissenhofer from the university of vienna, who is one of the founders of the austrian biological research station la gamba in the southwest of costa rica, in the midst of the rainforest of the austrians.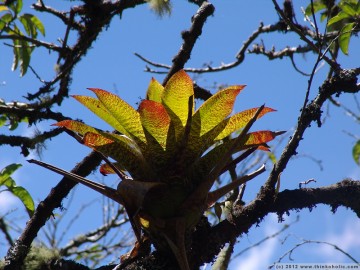 the first phase of the excursion consisted of
hiking trips and walks up to volcanoes barva, poas, a boat trip on the rio frio (=part 1),
a hike to volcanoe arenal and its succession of vegetation, a visit to a local medicinal garden, and walking through the canopy on hanging bridges (=part 2),
before we drove all the way down to the golfito region for…
phase two:
a practical course at la gamba field station (=part 3).
phase three included
a hike through the rainforest of the austrians to the sea,
camping at a place very close to paradise,
a mangrove boat trip into the delta of river esquinas,
and the drive back to san jose (=part 4).
highlights of part one included:
the first wet tropical mountain rainforest we saw. so much green!
a short stop to coffee plantation "cafe tres generaciones"
observing the endemic bangs' mountain squirrel (syntheosciurus brochus, also: poas squirrel)
practically being surrounded by water when a sudden cloudburst hit us during the rio frio boat trip
pineapple plantations, howler monkeys, cayman spotting, tillandsia and other epiphytes literally everywhere you looked
visiting the nicaraguan border
we stayed at hotel doña ines in san jose, and catarata eco-lodge in la fortuna. both accommodations were very nice.
as stated before, travelling with other biologists is a special way of travelling. i realized that when colleagues were disappointed to not find any big, poisonous critters in their rooms.
it's also very cool that the entire bus suddenly stopped along the road as soon as somebody shouted "bird!", "sloth!" or something similar. when we did that at the boat once, the captain got nervous and told half of the group to stay on the other side of the boat, so the boat wouldn't fall over.
for the rest of the story, i'll let the pictures (and captions) speak for themselves this time. german captions are available in the gallery, as usual.